can't believe what people give away
Saw a book at the Salvation Army. Didn't buy it, though it was ALMOST worth a joke purchase.
"Another winner for
Ellen Hart."
??
The first in a series of books featuring "Jane Lawless, lesbian sleuth."
I'm thinking maybe a tv show, combining the
lesbian-restaurateur-sleuthing
talents of Jane Lawless, and the lawless drunkenness of
Simpson and Snatch: Unlicensed, Assistant Private Investigators.
HBO?
Huh? Huh?
Comedy Central?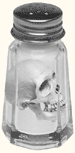 Well, FOX.
Ok, UPN?
....PAX. How about PAX?
Sabado Gigante, and that's our final offer.
Cherry pie, above, I guess.
Too much?
I hope there are many comments on that picture.
And the title.
And the salt shaker.