"Danksgiving" concludes with a show and afterparty!
Hey there PushPush pals!
This Wednesday November 28th at 10pm, the month of "Danksgiving" concludes with a show and afterparty that benefits an extremely important charity to us: PushPush Theater. As a non-profit theater, PushPush has selflessly provided a home to countless up-and-coming artists over the past ten years, and it's time to say thank you. After all, where would so many of us be without PushPush? Our GREAT friend and host Tim Habeger will put himself and his past out there for the sake of the theater. So come have a laugh at his expense.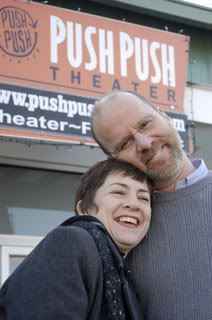 Then stay for a Danksgiving celebration! There will be music for dancing (provided by Baby Courageous) and loads of cheap beer for drinking ($1 keg drafts until the sun comes up).
*Tickets are raised to 10 dollars for this evenings show. But that will go a long way to help PushPush. (If you truly CAN'T afford the price of admission, please come out to the show with a slip of paper that has "DEADWOOD" written on it and you can help out the theatre for the regular 5 dollar ticket price.)
**Can't make the show? Come out for the afterparty and celebrate with us.