I'm asking you to join the email/blog army
Dave Willis, co-creator of Aqua Teen Hunger Force and
Squidbillies
(which he so graciously cast me in) on Adult Swim (Cartoon Network), will be doing the storytelling this wednesday at The
Doug Dank Project!
We need and want you to come out this week for this.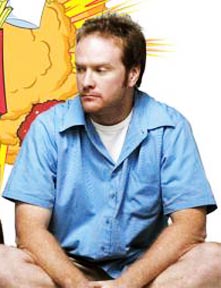 We need and want you to tell your friends about this.
But above that, we think you SHOULD come out for this. Talk to me for a little bit, and you'll find there are a LOT of things i think you should do. But of all of them, THIS involves much less effort, and MUCH more enjoyment.
Here is Dave's bio for himself, which is part true, part notsomuch.
Dave Willis is a writer and producer of cartoons for Adult Swim. He co-created "Aqua Teen Hunger Force" and provides the voice of Meatwad and the irascible next-door neighbor, Carl. He is also a writer and producer for "Squidbillies" and is currently working on an animated pilot entitled "Cheyenne Cinnamon and the Fantabulous Unicorn of Sugar Town Candy Fudge".* With his wife Jane, he is also the author of "Doing Task-Based Teaching", a manual that provides teachers with a better understanding of task-based learning and how to incorporate tasks with textbook material. He is also a pastor and author of the blog "Faith, Fatherhood and Free Time" He is also a realtor in Charlotte, NC. He is also a starting midfielder for the footballers of Gisborne City, New Zealand. He is also the legendary Glasgow-born comedian who died in 1935. He is also a professor at the School of Dentistry at the University of Louisville. More information on Dave Willis can be found at google.com. **

So, come on out Wednesday night at 10pm, and more importantly, tell your friends who are huge fans of Dave's writing, Dave's voice characters, or Dave's shows in general. He's a hometown celebrity, if i may be so bold, and it will make you just better if you're there.
Show's only about an hour long, tops.
Only $5!???! What?!!?
PushPush Theater.
in Decatur.
*end of truth

**except this, which is technically true.