Ralph Reed Running for Lt. Governor of Georgia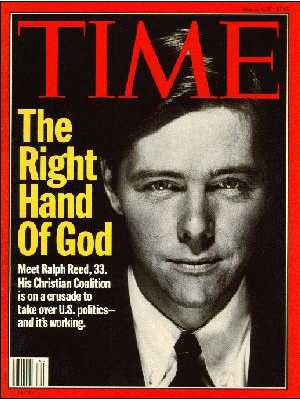 Someone who Abramoff thinks is dishonest! That's pretty bad.
"He is a bad version of us! No more money for him."
-- Abramoff, in a January 2002 e-mail to Michael Scanlon, complaining about Reed's billing practices.
He wants to hold the second-highest executive office in the state.
I bet he will, too. Because he's a "Christian" and yokels eat that shit up with a spoon.
Lt. Governor "has a great deal of influence on state policy and the establishment of spending priorities."
Reed said "We believe gambling is a cancer on the American body politic. It is stealing food from the mouths of children… [and] turning wives into widows."
He drummed up tons and tons of Christian anti-gambling protests, on moral and religious grounds, when in actuality he was getting paid buttloads of gambling revenue $$$$ by Abramoff because it threatened one of his own gambling clients.
State Primary Elections are July 18.